After I returned from my vacation I re-wired the whole control system and tidied up some loose ends. Since then I've had time to find and iron out some wrinkles in our system.
The first few pieces I cut the machine behaved well, but once in a while a line wouldn't quite get cut where it was supposed to. I discovered (by asking here and having a quick response from Gerald) that my Y-axis motor's pinion was slipping. I have since tightened all of my pinions, Z and one of the X were pretty loose too. I still need to get in there and put in some loc-tite.
I've also had some issues with the Z pinion hopping off of the rack when the router tries to plunge to quickly with a bit that's not meant for it, but I've started to make the cuts ramp in and use a slower plunge rate.
I have added the proximity sensors to the setup too, but I haven't been able to set Mach3 to let me override them when they get tripped as a limit. I need to look more closely into that when I get a chance, I find that the hard stops and good reflexes work well, but now that I'm not the only operator it would be nice to have the machine watch out for itself too.
This thing makes LOTS OF DUST. Dust collection is a top priority for the machine right now, but sadly the machine is not a top priority in the shop, we'll get the dust collector ordered and then the first down time we have, we'll get it set up.
Here is a picture of the fist actual "product" to come off the machine, they are some 2d banisters for a set at Seattle Childrens Theatre, down the street from us.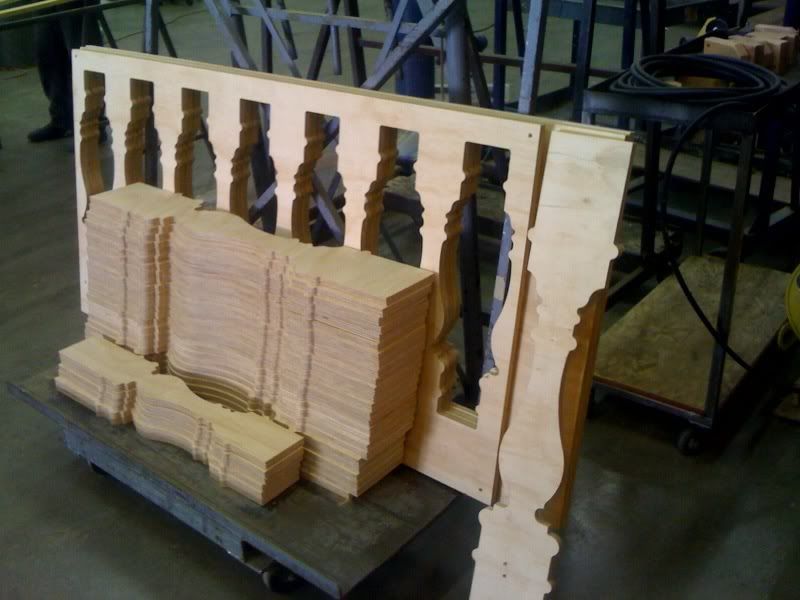 I've also put a video of the machine cutting some of these parts on YouTube.
Here
Overall I'd say the machine is a great success. I look forward to working out the dust collection and building a Z-zero touch plate and a corner finder in the near future. I also look forward to potentially adding an indexer, vacuum hold down and additional toolheads further down the road.
Thanks for all the inspiration and help in building this. I still check the forum at least a few times a day for new ideas and to see how other people are building their machines.